Yoga 2 Self CDs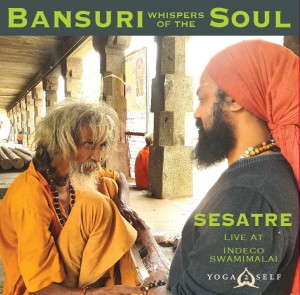 Bansuri Whispers of the Soul
Audio CD RM 25.00 (at retail outlets in Malaysia) RM 35.00 (mail orders)
Musician: Sesatre   Music type: Meditation Flow
Mastering: Azman Ahmad
Live recording at: INDeco Swamimalai
"Bansuri Whispers of the Soul" is the recording of Sesatre's inspired Bansuri live flow sessions during the 2018 Yoga2Self retreat at INDeco Hotel in Swamimalai.
Practising yoga and meditation, meeting great souls and visiting awe inspiring places like the magnificent Chola Temples, Thillai Nataraja Temple, Saint Ramalingam Swamigal's Samadhi and Nagore Dargah was a true feast for the soul.
Sesatre was our pied piper leading us on an enchanted journey back in time, back to our source.
 This CD comprises the following 5 tracks :
1  The Ancient One              
2  Smell the Music                   
3  Art of Being                       
4  Deep into the Light
5  The Core is Emptiness
____________________________________________________________________________
Dhyana Prakasham - The Light of Meditation
Audio CD RM 35.00 (at retail outlets in Malaysia) RM 45.00 (mail orders)
Composition & Arrangement: Sesatre   Music type: World Music  
Musicians:  Sesatre (Flute/Bansuri),  Vatim Batura (Santur), Mohamad Ammal Shafiq (Acoustic Guitar), C. Rishi & Vicky (Tabla, Pakawaj, Dholak),
                 Mathan (Drum & Percussion), Steven Vijaya Kumar (Udu)
Meditation is the search for the light of pure being.  One cannot do meditation or learn meditation via the thinking process, because the meditative state only arises when doing and thinking have completely ceased.
In the words of Osho:  "As darkness cannot come in contact with light, because darkness is only an absence of light; so the mind cannot come in contact with meditation, as meditation is the absence of mind. "
"Dhyana Prakasham" is a Chakra-based meditation.
This album attunes the energy centres (Chakras) in our astral body aiding our inward journey towards the light of our pure inner being and away from the shackles of the ego, mind and body concepts.
With this composition, Sesatre captured and converted the essence of each Chakra into music. Thus playing the album during meditation, the Chakras will effortlessly start dancing to their own tunes, so to speak.  
1. Muladhara
2. Swadhisthana
3. Manipura
 4. Anahata
 5. Vishuddha
6. Ajna
7. Sahasrara
 ________________________________________________________________________
Mantras – Journey beyond the Mind
Audio CD RM 25.00 (at retail outlets in Malaysia) RM 35.00 (mail orders)
Composition & Arrangement: Sesatre   Music type: World Music 
Singers: Preeta Prasad, M.Duruvan, Sesatre, Su.Selvandiran, Andrew Marniam
Musicians:  Sesatre (Flute/Bansuri),  George Vijay (Mridangam, Ghatam), Su.Selvandiran (Keyboard), C. Risshe  (Tabla, Ganjeera & Percussions)
Yogic Sun Salutations or Surya Namaskar with Mantram may be an entirely new practice for some. The Mantram will take you deeper into the postures and the pacing will keep your breathing steady too, making your practice a  rewarding and refreshing experience despite completing more rounds than ever before.
The other tracks of the album comprise "Om Namah Shivaya" in Rag Revathi and two versions of the "Gayatri Mantra" one traditional, the other contemporary set to world music.
Surya Namaskar (36 x)

Gayatri Mantra – Traditional (21x)
Gayatri Mantra (108 x)

Om Namah Shivaya (108 x)
 ________________________________________________________________________
A Journey in Yoga Nidra
Audio CD  RM 35.00 (at retail outlets in Malaysia), RM 45.00 (mail orders)
Music: Sesatre   Voice: Barbara Vadiveloo
Yoga Nidra literally means "yogic sleep" and refers to a state of deep sleep with full awareness.It is a traditional method of deep relaxation that has been used for ages as a source of strength and inspiration. 
Yoga Nidra leads to complete physical, mental and emotional relaxation and regeneration.It enhances the self-healing capacity of the body and relieves many stress-related aches and pains.
40 minutes of Yoga Nidra practise has a similar effect as a few hours of deep sleep.
Physical fitness is irrelevant for the practise of Yoga Nidra; you just need to lie still on your back for 40 minutes.
English CD sample
"Yoga Nidra – Eine Reise ins Innere"
German CD sample
 ________________________________________________________________________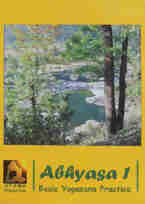 Abhyasa 1  – Basic Yogasana Practice CD
Audio CD, original Soundtrack by Sesatre:  RM 150.00
(available only to those attending workshop)
includes:        Workshop fees, Abhyasa 1 Audio CD, 
                    Booklet with personalized variations,
                    Workshop notes,  Practice diary
Yoga is about touching base with our Inner Self and gaining control over the constantly arising fluctuations in our mind.
For this we first need to turn our mind and senses inward, which is best done in solitude. Therefore, self-practice is an essential aspect of Yoga.
 "Abhyasa" refers to a constant practice over a long period of time.  The 2 hour Abhyasa workshop aims at assisting students to develop their own home practice.
Who should attend:  Current students with a few months regular
                            class practice
Venue and dates:    To be announced
_______________________________________________________________________________
Sesatre's Other CDs
Bansure World
Audio CD  RM 40.00 (at retail outlets in Malaysia), RM 50.00 (mail orders)
Music: Sesatre   Music type: Fusion  
Sesatre infused musical styles of various parts of the world into this album. He takes us on a tour to the Himalayas, makes us feel as if we are walking in a snow storm, then sends us off to Java where his Bansuri mingles with the indigenous Gamelan,  then gets us into a Jungle setting, with chirping birds and splashing water…an amazing tour indeed.
"Bansure World" is a gem of an instrumental album and everyone who enjoys Sesatre's Yoga-related work in the previous albums, will be delighted by these marvelous instrumental compositions.
Gift of Love
Inner Spirit
Secret of Java
Mayan
Peace in Rome
Sastri-Boyradge
CD's CAN BE PURCHASED AT THE FOLLOWING RETAIL OUTLETS IN MALAYSIA:
Yoga 2 Self  Studio
No. 1 Jalan 8/1D, 1st Floor,
Seksyen 8
46050 Petaling Jaya
(please call  012-337 2796 – Barbara)
Selected CDs are also available at
Veg Chat, Vegetarian Restaurant
3, Lorong Padang Belia
50470 Brickfields